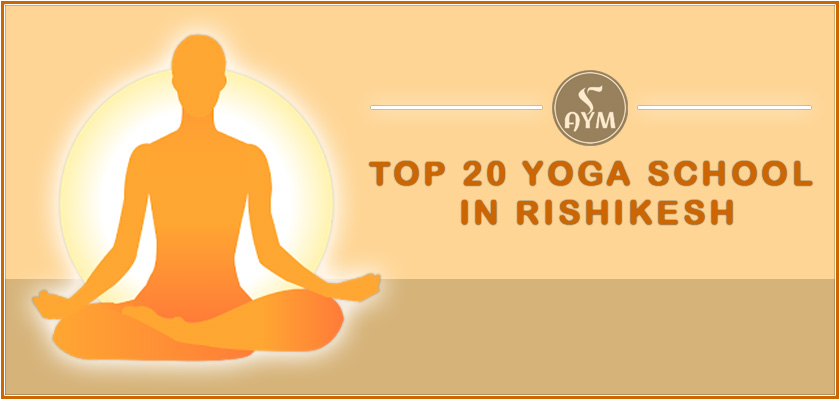 List of 20 yoga schools in Rishikesh
Posted On : 09 February 2017.
Posted By : Yogi Mahesh Chetan.
India has managed to drag a huge number of tourist attractions for Yoga. Credit goes to the premium institutions here for the Yoga and meditation programs, etc. At the same time, a great number of people fly to India for yoga teacher training programs to pursue the incredible career options in Yoga. Combined effects of the factors like, dedicated teaching by experienced trainers, soulful environments, and incredible facilities of the institutions here are responsible behind India being the biggest Yoga destination in the world. To be specific, the Institutions like AYM School have been noteworthy on this matter, providing world-class facilities.
Mentioned below are 20 renowned yoga schools in Rishikesh recommended for everyone interested in this arena.
AYM School (Association for Yoga & Meditation )
AYM Yoga School is a one-stop center for learning whole forms of yoga. No matter you are enthused about 200 hour, 300 hours, or the traditional courses like Hatha Yoga, Ashtanga Yoga, etc, this training school is always the best recommendation. In addition, the level of Philosophy, Human Anatomy, Physiology studies provided here is simply incredible.
Akshi Yogashala
This registered yoga training center in Rishikesh witnesses the tourists from all around the world, across all seasons of the year. Incredible teaching facilities combined with very good accommodation and the dedication of the tutors over here has made it one of the finest places to practice yoga.
Anand Prakash Ashram
Anand Prakash Ashram leaves no room for complain. Starting from world class accommodation, perfect communication facility, to dedicated teaching sessions, everything about the yoga destination has been incredible. AnandPrakash Ashram is the best option for the toughest yoga practices like kundalini yoga.
Art of Living Yoga School
The world knows Art of Living for its risky humanitarian works. This prominent name in the world of Yoga has been one of the most visited destinations as well in India for yoga classes. Needless is to say that the facilities here are the best in the world.
Hatha Yoga World:
As the name suggests, this certified yoga center in rishikesh is probably the best destination in India, in fact the world, to understand the complex Hatha yoga techniques. Yoga knowledge of the teachers over here is simply commendable.
Nada Yoga School
Specialty about Nada Yoga School is that Yoga is its distinguishing teaching method. One can claim that Yoga is taught in a celebrative fashion here. Apart from yoga, this can be a fantastic destination for classical music learning as well.
Om Shanti Om Yoga
Om Shanti Om Yoga Teacher Training School can make you satisfied in all manners regarding yoga. However, the 200 hours training courses offered here has been distinguishing. Situated at a well-known destination (near LaxmanJhula, Rishikesh, Uttarakhand), the place involves no communication issues.
Omkarananda Ganga Sadan
Being situated at a stunning destination, in proximity of Shivananda Arch, the Omkarananda Ganga Sadan sets the perfect environment to enjoy Yoga. Classes of yoga mated with stsang sessions can make anyone feel privileged about this life.
Parmarth Niketan
Parmarth Niketan is one of the most popular registered yoga centers in rishikesh. Be it the breathtaking environments or the ecstatic training sessions, there is every reason for the visitors to cheer about the place. Especially, one should not miss the Internatonal yoga festival conducted here during March.
Patanjali International Yoga Foundation:
No need of introduction for this highly celebrated Yoga destination in the world, situated in India. This non-profit, registered organization has played the biggest role in spreading yoga and its advantages over the globe. The institution is supremely respected around the world.
Phoolchatti
Here it is another incredible option in India to learn Yoga under the serenity of fulfilling environment. At the same time, the accommodation facilities have been incredible here as well. This has become one of the most preferred names for certified yoga training in India for the flexible yoga programs it arranges.
Rishikesh yog peeth
A whole different yogic energy can be experienced at Rishikesh Yog Peeth. Starting from the breathtaking views around the place, to the dedicated guidance of the trainers over here, there is everything here to make your days special.
Rishikul Yogshala - Yoga Teacher Training
Rishikul Yogshala provides memorable experience every time, to every visitor who travels here. Situated at the prominent location like Swaragashram, Hotel Surya Palace Street, Ram Jhulla, Rishikesh, Uttarakhand, this prominent Yoga school in India has been one of the biggest tourist attractions every year.
Sadhna Mandir
Places like Sadhna Mandir are the reasons behind growing tourists coming to India. This one of the oldest yoga destinations is enriched with people having huge knowledge and experience. Well, the thrilling environments make it tough to go away of here.
Sanskriti Yog peeth
Sanskriti Yogapeeth has managed to earn the reputation as the destination providing finest accommodation. The destination is specially known for Hatha Yoga teaching programs. Anyway, at the same time, the place has been fantastic for learning various Indian traditional dances.
Shiva yoga peeth
Shiva Yoga Peeth sees a huge number of passionate yoga learners throughout the year. This is a very good institution in India for both the beginners as well as the seniors. Facilities of learning are incredible. Situated at Omkarnanda Deepeshwar Mandir (near Jerman Bakery), this yoga center is connected with all means of communication facilities.
Sivananda Ashram
If you want to learn the true essence of all four forms of yoga, including the physical and breathing techniques, there can't be really any better recommendation than Sivananda Ashram. This certified yoga Center in India has earned excellent reputation for its excellence and discipline. Anyway, book earlier, otherwise you may struggle to find a session.
Swami Dayananda Ashram
Swami Dayanada is best destination for those who want to learn the core Vedic Yoga and its logic. This ashram provides the most authentic form of yoga course in Rishikesh as here things can be learnt from the vedic perspectives.
Tattvaa Yogashala
As it is evident from the name, TattvaYogashala is the best destination in India to learn the underneath aspects of Asthanga Yoga forms. Anyone eager to learn the highest form of yoga is always recommended to visit here.
World peace yoga center
Yoga training at World Peace Yoga Center is unique as one can learn about the underneath principles of various practices, the traditional values, philosophies. This is one of the best places to acquire true yogic science and knowledge.