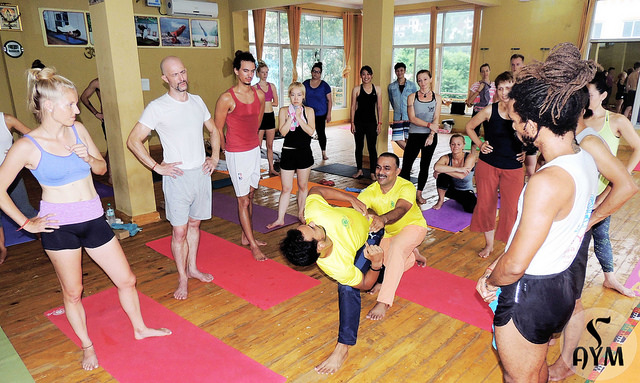 Learn Yoga in India
Posted On : 20 August 2016.
Posted By : Yogi Mahesh Chetan.

Learning Yoga amidst peace & spirituality in Rishikesh
Rishikesh, known as Dev Bhoomi or "The Land of Gods" is known for its peace and spirituality that is available for one and all to experience. It is the land of sages who have earned enlightenment by practicing austerity, including deep meditation for hundreds of years. The town is famous for its spiritual practices and yogic lifestyle which includes religious cultures and traditions. Other than that, Rishikesh is also known for yoga and meditation and is considered as its hub all over the world.
Why Rishikesh?
People from countries all over the world come to India to learn Meditation and Yoga in Rishikesh. The question is why? The answer is that Rishikesh, other than being a yoga hub, is also famous for its astounding beauty, complete peace and breath-taking view of twin natural wonders of the world, namely Himalayas and the massive and holy river Ganga, known to have been brought to earth by sage Bhagirath to provide penance to his ancestors. Ganga is the river of gods which was brought to earth for humanity and to purify their bodies and souls. Thus, everyone wants to get purified and feel spirituality in their life. Everyone wants to find self and true meaning of life, which can only be done in Rishikesh, the land of gods.
Rigidity of the body can be removed and replaced with flexibility by practicing various asanas of yoga while meditation and 'dhyaan' can improve one's focus and clarity of mind. Various styles such as Ashtanga, Hatha, Iyengar, Vinyasa, Vinyasa Flow and Power yoga can help and vastly improve the functioning of body. Power Yoga attracts a lot of people as it includes a combination of asanas and exercises which are performed in tandem with each other and at a fast pace, making the person sweat and cleanse the body free of toxins. Thus, a much transformed and well-functioning body and mind can be achieved through yoga and meditation and make a person free from stress and physical tiredness.
Yoga Courses in Rishikesh
There are various yoga courses that are offered in Rishikesh by various yoga schools and ashrams, depending on the time and requirement of visitors/students/yoga enthusiasts/yoga travellers. The courses are of different types ranging from basic to intermediate to advanced yoga course. Anyone can come and get enrolled in any yoga course of their choice and learn how to get perfect mind and well-balanced body in a short span of time ranging from 22 days to 2 months.
Yoga Courses at AYM Yoga School
AYM considered as the best yoga school in Rishikesh, provides basic, intermediate and advance yoga courses to its students, enthusiasts and yoga travellers. Courses offered by AYM are affiliated to and verified by Yoga Alliance USA and International Yoga Federation. AYM Yoga School offers 200 hour Hatha Yoga, 300 hour YTTC and 500 hour Intensive Yoga Teacher Training to its students. The courses include different styles of yoga such as Ashtanga, Hatha, Vinyasa, Iyengar along with anatomy, physiology, psychology and classes of meditation.
Yoga Retreat at AYM for Adventure Lovers
Those who love adventure need not worry. AYM Yoga School also offers yoga retreat which is of 3 to 7 days and is meant for those who don't have much time. The yoga retreat is loved by one and all as it combines yoga with exercises and other extra-curricular activities such as outing to religious places, trekking and hiking to nearby hills of Himalayas, musical evenings, group discussion, etc.
So just don't wait. Come to AYM Yoga School in Rishikesh and feel and be part of the change in yourself. Make yourself better and discover self while connecting with god.