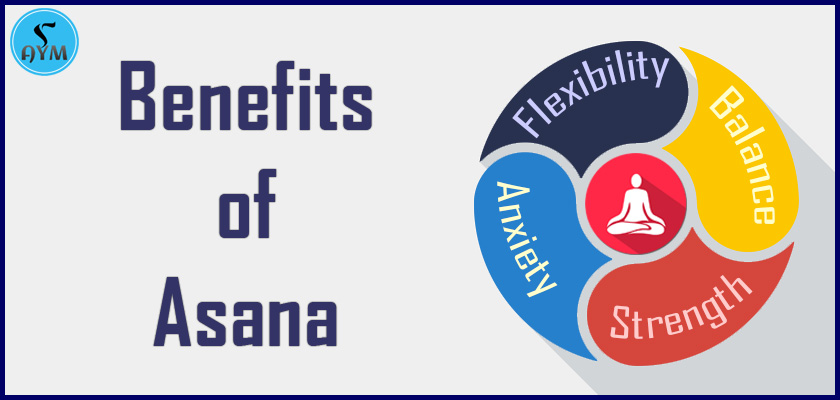 The Benefits of Asanas Yoga
Posted On : 25 March 2017.
Posted By : Yogi Mahesh Chetan.
In Patanjali's yoga sutras, the practice of asanas comes after Yam and Niyam. Asana is the first visible practice of yoga.
What's the meaning of Asana? Posture?
Asanas include all physical exercises. The classical meaning of asana is: Sthiram sukham aasanam: Steady, comfortable sitting. So, asana means a stable and comfortable manner of sitting. In English, we say:"please take your seat" In Hindi, it's "please take your asana". Asana is something that we sit on. So, when we sit on our hips, they also become our asana.
The physical practice of asanas can be found in various styles, according to various modern needs. For example, the Hatha Vinyasa style of yoga is designed to tone up the body in a short period. It has no set sequence, so it leaves the instructor to be creative. Traditional practices such as Ashtanga, are more strict and formulaic in their approach to the asanas. Restorative yoga popularized by the late BKS Iyengar has made yoga more accessible for those recovering from injuries and the elderly. Modern yoga styles such as office yoga are making the benefits of yoga available in the office. This accessibility and transportability make yoga asanas a very enticing practice to learn.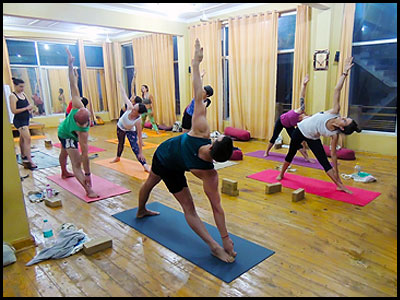 Increase in muscular strength and flexibility
This is one of the most obvious and visible outcomes of a regular asana practice. Yoga techniques are designed to lengthen the muscles while strengthening them and increasing the flexibility. Yoga promotes leaner muscle compared to muscles gained from the gym. It is also a good practice for athletes. The restorative yoga practices combined with pranayama techniques can relieve sore muscles and relieve tension.
Increase mental focus
The asanas encourage the practitioner to bring the mind under control to go deeper in the poses. This has a lasting effect on the mind that can be applied outside of your mat. Many companies in the west have started offering yoga classes because researches have found a connection between yoga and increase in productivity. So, the benefits of yoga go beyond the mat into our workplace!
Asana is not only sitting, but it is also the manner of sitting. So, then why are we doing so many asanas? It's because stillness is difficult to achieve. Initially, our physical body isn't strong enough to handle the process of sitting. So, in order to get comfortable siting, the masters created Hatha yoga. This is so that our body and muscles can become more flexible and strong. It is so that when we sit, our sitting is comfortable. When the practitioner can sit comfortably, stability will come. Initially, in the body and then in mind.
The mind has a nature to go to the discomfort first. Classically speaking, one must sit for 3 and half hours to master the asanas. After 3 and half hours, the full benefits of asanas will be visible. Then the spiritual benefits will begin. Hatha yoga asanas are designed in a manner to slowly increase your sitting capacity.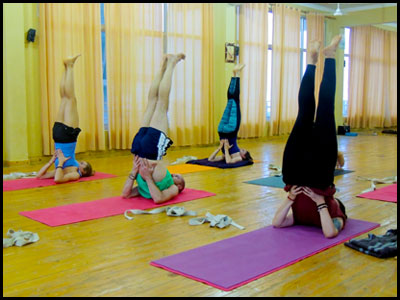 Spiritual benefits:
In essence, yoga is a spiritual practice that is focused on bringing in harmony between the mind and body. Some spiritual benefits of yoga include:
Effortlessness comes into your life. Life becomes less stressful.
The subject becomes unaffected by opposite kind of situations. One doesn't get affected by hear or cold, success or failure, pain or pleasure …
The body can handle high voltage. By doing various asanas, we make it ready. Here, the body can handle the prana, not electricity.
AYM is one of the oldest yoga teacher training schools in Rishikesh, India. It is situated in the lush mountains of Upper Tapovan. It offers 200, 300 and 500 hour TTC throughout the year. From white water rafting to trekking in the Himalayas, the possibilities for outdoor adventures are limitless in Rishikesh. One can immediately feel the aura of spirituality and devotion as they enter this spiritual capital of yoga.